On Friday, April 17, students receiving meals will be getting ten days worth, enough for the complete April vacation. Milk will be delivered in gallon jugs, instead of the small containers. You will also be receiving suggested menus with this delivery. If you would like to suspend your food delivery during April vacation and resume it on Monday, April 27th, just send me an email and we can do that for you. Be Well!

Due to the many power outages our staff is experiencing, students may not get assignments from their teachers. Try to enjoy the spring snow! Stay safe!


Good Morning, With the impending storm on Friday, we will be sending enough meals today for the next 5 days. Please be expecting extra food and deliveries maybe a little later than usual today. Stay healthy everyone.

The CDC has recommended that playgrounds not be used because they have not been disinfected. There is still uncertainty about the shelf life of the Covid-19 virus on surfaces. Please do not use the Dedham School playground equipment at this time. Thank you.

Middle School staff Virtual Meeting today at 11:00 on Google Hangouts.

Learning packet pickup is today from 7 AM to 7 PM. Just pull into the parking lot & staff members will bring your child's materials out to your car.

AOS #47 will be delivering free breakfasts and lunches to students age 18 and under during the time school is out. If you are in need of meals please contact the Superintendent's office at 825-3364. Food will be delivered Mondays, Wednesdays, & Fridays beginning on March 18.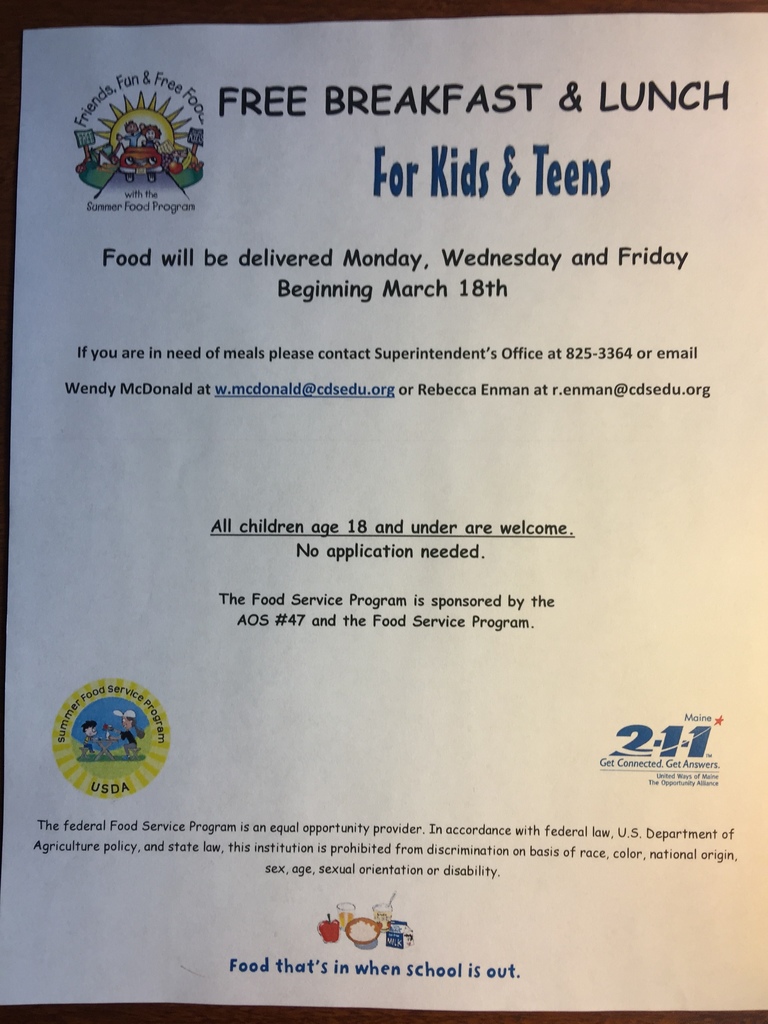 Learning packets will be available for pick up on Wednesday, March 18, from 7:00am to 7:00pm. To limit the number of people in the building, parents can come to the front door to pick these items up. Staff members will bring the materials out to your car as you arrive.

In an effort to slow the spread of COVID-19, AOS 47, The Dedham, Orrington and Airline Community Schools will be closed beginning Monday, March 16 through Friday, March 27th. More detailed information will be forthcoming this weekend.

The Winter Open House scheduled for Wednesday, March 25 has been cancelled.

Beginning on March 16th, students in grades 3-8 will be participating in the state-wide emPowerME testing in Reading, Writing & Language, and Mathematics. The window to complete these assessments runs until April 10th.

The Dedham School Committee will be meeting on Wednesday, March 11 at 6:00pm in the library.

School is closed today due to the inclement weather.

The Beginning Band Concert will be held tonight at 5:30pm in the gym.

School is closed today, Friday February 7, 2020 due to the inclement weather.

Basketball playoffs at Veazie Community School today! Girls vs. Veazie at 3:00 & Boys vs. Greenbush at 4:15 Go Demons!

The Demon Basketball Teams travel to Veazie Community School today to begin the playoffs. The girls will play Veazie beginning at 3:00 and the boys will play Greenbush at 4:15. Good Luck to both teams!

All after school activities have been cancelled for today, Friday, January 31.